Dunia Villanueva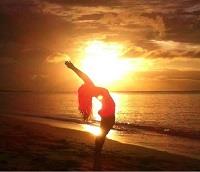 Dunia has been in the mental health field since 1994 and is a Licensed Clinical Social Worker in the state of Florida; with experience working with the elderly, acute mental health and traumatic brain injured patients, at-risk youth, domestic violence, substance abuse, inclusion and special needs, and early childhood development.
Her area of expertise is promoting Social-Emotional Competence in young children and infants. She is also a Certified Educator in Infant Massage promoting bonding and attachment between babies and their parent(s)/caregiver(s). Dunia brings her mental health experience into her yoga classes, creating an inclusive, healing and self-esteem building environment, through the asana practice.
Dunia Villanueva instructs the following:
After all the food and drink, come join us for a fun filled class of yoga.

Being Black Friday we are offering a "Bring a friend for "FREE."

Energy Yoga Mats are on sale for only $25




This class is open to all levels and is rated - "Beginner's". This is a slower paced class with deep stretching and a relaxing mediation.