Anastasia Rodriguez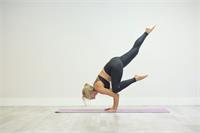 Originally from Russia, Anastasia teaches a fun filled but disciplined practice sure to inspire and challenge you.
Anastasia Rodriguez instructs the following:
Power Vinyasa Flow Yoga is a powerful, energetic form of yoga where students fluidly move from one pose to the next while linking their breath to each movement.




Detox for the body and soul in a class sure the make you pure from the inside out.

Minimum Age Requirement for this class is 18 years of age.